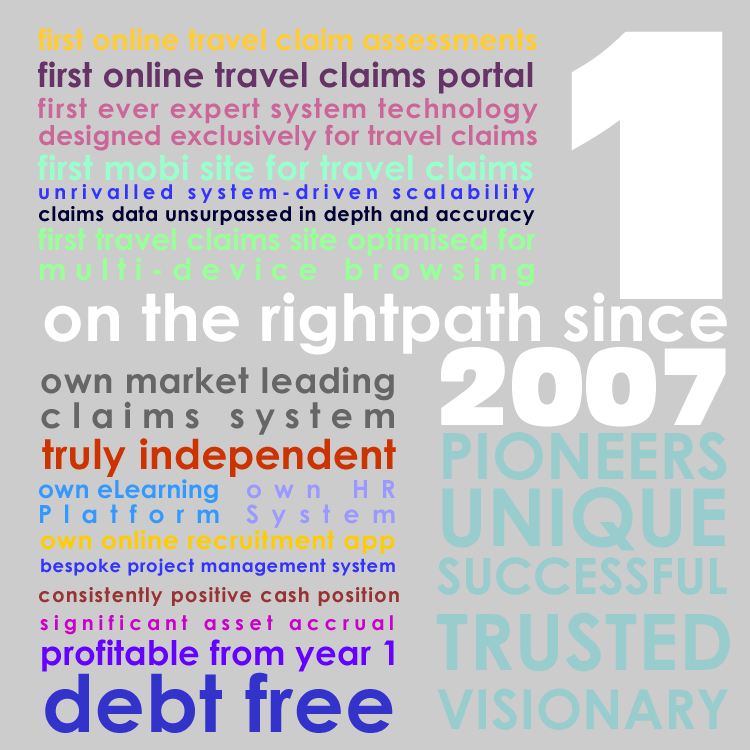 Welcome to Rightpath Claims, a claims management company with a growth rate of 60% year on year. We are proud to be delivering what we consider industry leading results in the areas that matter most:
Cost control - We target leakage of less than 1% and consistently deliver better. We have a highly systemised recovery process ensuring all recovery options are explored as well as a comprehensive and robust fraud prevention programme.
Customer service - With a customer satisfaction rate that has run as high as 99% we have been finalists in multiple business awards for our achievements in Customer Service.
Innovation - Technology is not a replacement for skilled and applied people but can be a fantastic enabler to support us in delivering unsurpassed improvements in efficiency, effectiveness and the customer experience. Our innovations have led us to become finalists in business awards for this category.
How does your provider compare?
Do you get...
Process flexibility

(You choose your ideal claims process. We deliver. Our systems are embedded with Insurer/Agent preferences that drive the entire process. Add and exclude services as desired.)

Online claims portal

(Enable your customers to check online for the status of their claim, when it was opened and when it is expected to be looked at as well as allowing them to add a case comment.)

Online claim assessment

(Allow your customers to get an accurate claims decision… online. Delivered through the second iteration of our highly acclaimed claims assessment tool 'ATICS', we accurately identify the correct scheme, underwriting year and policy rules to ensure the decision is wholly accurate.)

Unbeatable claims data

(Simply put, the accuracy and depth of our claims data is unsurpassed. Never seen before data is providing completely new intelligence and insight into scheme performance.)

*Free white label claims sites

(Make a bigger statement about your commitment to claims service excellence by extending your online presence with a branded claims site. Optimised for multi-device browsing enrich your claims promise by having notification, FAQs and contact pages built as an extension to your existing Sales site.)
*Based on qualifying scale
Please contact us today to discuss how Rightpath can strengthen your claims proposition. Confidentiality assured.